Stanbridge Spotlight: Nursing Alumnus Alejandra Novela – Climbing the Career Ladder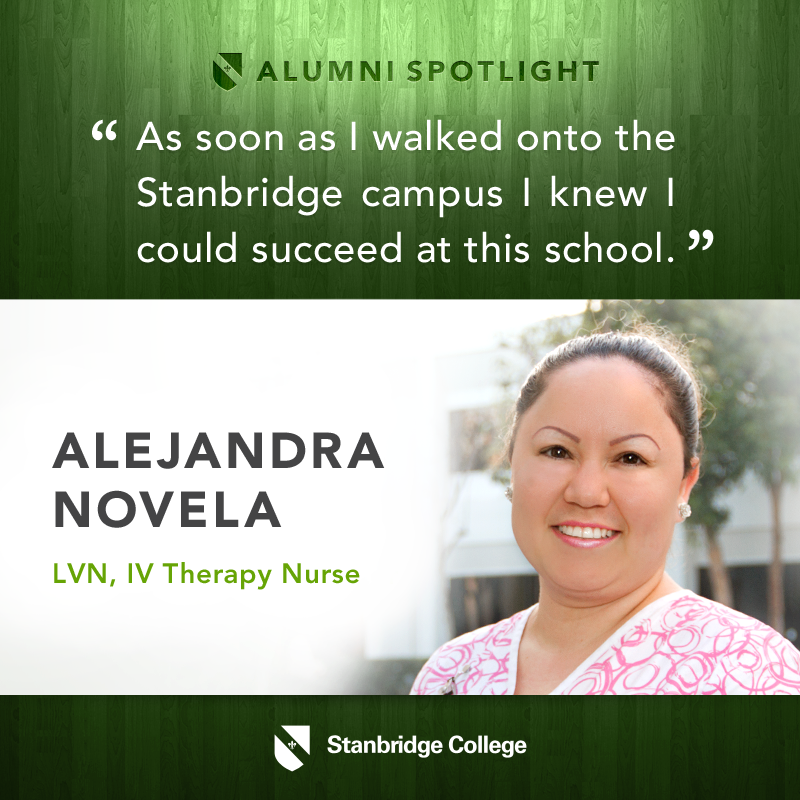 Growing up with an ailing mother with diabetes, Alejandra Novela found compassion for helping others early in life. With a big heart and persistent attitude, the Stanbridge College nursing alumnus started her climb on the nursing career ladder. After 6 years of being a Certified Nursing Assistant (CNA), Alejandra chose Stanbridge College for her Vocational Nursing training. Now as an IV Therapy Nurse, Alejandra credits Stanbridge for training her with the right skills and career preparation.
In this spotlight, Alejandra discusses how the professionalism from Admissions, guidance from instructors and Student Services, and career preparation from Career Services, helped her get one step closer to her dream career.
Stanbridge College: What were you doing before you came to Stanbridge College?
Alejandra Novela: I was a stay-at-home mom and then I became a CNA. I did that for 6 years until I chose to start the Vocational Nursing program at Stanbridge.
SC: What was your inspiration for becoming a nurse?
AN: As a CNA I wanted to continue my education to become a nurse. My mom was diabetic and I didn't have the skills or knowledge to help care for her, so she was a big inspiration for my decision to become a nurse. I really wanted to make a difference for her and others, especially the elderly. I like helping people and making them feel better.
SC: Why did you choose Stanbridge College for your education?
AN: I checked out other schools for Vocational Nursing in Orange County and I felt that they were not as professional as Stanbridge College. As soon as I walked on to the campus at Stanbridge I noticed it was clean and organized. The staff was very polite and serious about what they were doing. It gave me a good feeling that I could succeed at this school unlike the other schools where the level of professionalism was very low. I also researched Stanbridge's NCLEX pass rate and it was very good.
SC: What was your biggest lesson learned at Stanbridge College?
AN: I learned how to prioritize the lessons I needed to study. I remember the first day was scary because of the amount of the books and materials we were given. I worried how I was going to remember it all. But then the instructors were great about explaining the materials and how to focus on the skills we needed.
SC: What was your experience like preparing for and taking the NCLEX exam?
AN: The NCLEX was challenging at first. I studied so much, but I think I over-prepared. The key really, is to pay attention from the first day of class to the last, because it is critical thinking that is most important when taking this test. I also took the ATI tests and I focused on studying the sections where I was the weakest, not the parts I knew well. I also didn't wait to study right before the test. I think it is best to not wait to take the NCLEX. Take it right after you graduate, don't push it off.
SC: What guidance do you want to share with current VN students in Term 1 and 2?
AN: If I could go back and redo my first terms, I would get more help learning how to study and prioritize my lessons earlier. I worked really hard with my instructors and Student Services to concentrate on the right materials I needed to learn and it helped my grades a lot. I would suggest all new students get tutoring to help them start off on the right path.
SC: Tell us about your new or current employment. What do you do?
AN: I am an LVN and I work as an IV nurse for an endoscopy center. I help admit patients, take their vitals, record their medications, and prepare them for procedures. I also work under supervision from the RNs to discharge patients during their recovery. I received my IV certification from Stanbridge and that really helped me get my current job.
SC: What is your advice for fellow students looking for a job?
AN: Before I graduated, I took all of the Alumni Association workshops and got all of my certifications at Stanbridge College. Having those was a big help when applying for jobs because that is what employers are looking for. I worked with Stanbridge College Career Services and focused on their job postings while I was waiting for my license. Also, having experience with patients was helpful in getting a job quickly. Students should volunteer at hospitals and medical centers, you may be able to get a foot in the door once you get your license. Being open minded is good too. Don't look for the job for a high paying salary but start out wherever possible and work your way up.
To learn more about the Vocational Nurse Diploma and Hemodialysis Technician Diploma programs at Stanbridge College please visit www.stanbridge.edu.