Stanbridge Students Granted Huntington Beach Hospital Silver Anchor Auxiliary Scholarship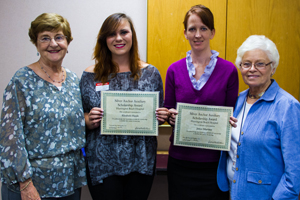 Janice Martinez and Elizabeth Hipple, nursing students at Stanbridge College received scholarships from Huntington Beach Hospital's Silver Anchor Auxiliary to help fund their educational goals. The scholarships were given based on factors including the student's goals and accomplishments in the healthcare field.
Stanbridge College spoke with Janice Martinez, current student in the part-time nursing program, PTT, about the scholarship and her revived determination to complete her program and achieve her Diploma in Vocational Nursing.
SC: What is your inspiration for becoming a nurse?
JM: Past and present co-workers. I have volunteered at a local hospital when I was 14 and did that for 3 years. Seeing what the nurses and doctors did on a daily basis made me decide that I want to be a nurse.
SC: How important is the Silver Anchor Auxiliary Scholarship to you?
JM: This scholarship is important to me because it came at a time when I was considering not continuing with school due to unexpected illnesses with my daughters. Receiving this scholarship gave me the strength to continue and push through and to know that I am doing this for them and to better myself.
SC: How did you feel when you heard you were a recipient of the scholarship?
JM: I was completely shocked! Being a term 2 student, I thought they would select someone close to the end of the program. When I received the email from Ms. Kim, I was at work and had to re-read the email. I shared with a co-worker who also is in the program, and all she said is 'see never give up on your dreams, you are meant to be nurse'.
SC: What advice do you have for your fellow students in reaching their goals?
JM: No matter what happens during your education, keep your eye on the goal. Many obstacles will come your way as well as many challenges, just remember it is a sacrifice, but well worth it.
SC: What do you hope to achieve after graduation?
JM: Let's just get me past Term 2! After graduation, I hope to continue to work in the facility I am at, and or work part-time in a home health environment.
SC: Where do you see yourself taking your nursing education?
JM: I hope to obtain my Bachelor of Science in Nursing by 2018, or even get my master's degree one day. I am looking to pursue becoming a CIC (Certified Infection Control Practitioner) as well as a Certified Case Manager. Who knows I may one day be a teacher at Stanbridge!
Members of Huntington Beach Hospital's Silver Anchor Auxiliary are volunteers who perform various service related duties for patients and hospital staff. They play an important part in the day-to-day operation of the hospital and help with delivering flowers and mail to the patients, taking patients to their rooms, delivering pharmacy supplies, and assisting with transporting patients upon discharge. To learn more about the Huntington Beach Hospital Silver Anchor Auxiliary and find out how you can volunteer, please visit: www.hbhospital.com.
To learn more about the Diploma in Vocational Nursing program at Stanbridge, visit www.stanbridge.edu.