Stanbridge Students Roll Up Sleeves to Help Save Over 72 Orange County Lives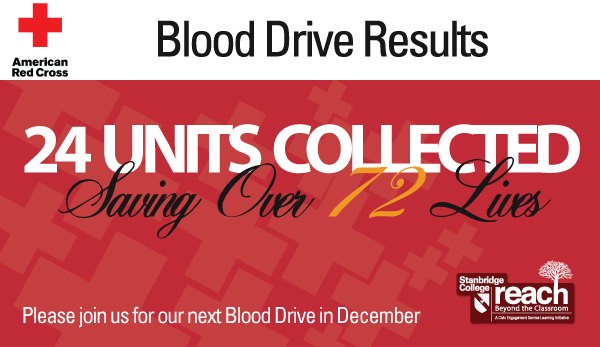 This Fall, over 30 Stanbridge College students and staff boarded the American Red Cross Bloodmobile and donated 24 pints of blood. The blood will be used to help save and assist in providing medical aid to over 72 people in Orange County in need of blood transfusions. This drive produced the highest amount of donated blood in the past two years. The blood drive came at a critical time for the Red Cross of Southern California as the community blood supply remains in a fragile state towards the end of summer.
According to Stanbridge College Nursing student and volunteer, Brittany Ash, "I really enjoyed my time volunteering. It is great to talk with blood donors that are "regulars." A couple of people mentioned that they love giving blood because theirs is in high demand for premature babies! It felt great to be a part of this experience."
"By doing something so small as taking 45 minutes out of your schedule to get a little needle poke and lay on a bed, you can save 3 people's lives…," stated Dani Maillet, Nursing student and donor. "There's no way I could justify not giving blood!"
Stanbridge College has hosted a blood drive every quarter in the past two years. In 2011, Stanbridge was awarded the Platinum Achievement Award due to an 82% increase in units collected from the quarterly blood drives. These events are part of the Stanbridge College REACH – Beyond the Classroom community service initiative where students are encouraged to learn about and participate in activities for a wide variety of non-profit organizations in Southern California and around the world.
Continue to REACH
The need for blood is constant. Please visit www.redcrossblood.org to learn more about donating blood and to sign up for a blood donation site near you.
To learn more about Stanbridge College REACH please visit www.stanbridge.edu/reach.