Stanbridge Spotlight: Malinda Smith – Acing the Interview and Starting Her Dream Career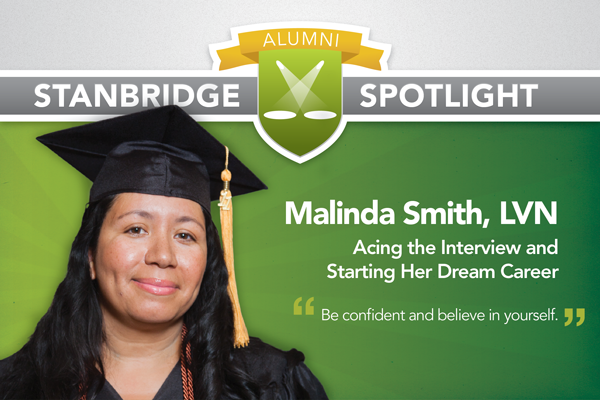 In today's economy, finding a job and fulfilling a dream at the same time does not typically go hand in hand. But Stanbridge College alumnus, Malinda Smith, LVN, took control of her career path and with the help of the Career Services Department at Stanbridge College, she recently accepted a position in the Psychiatric Unit at La Palma Intercommunity Hospital.
"I definitely utilized Career Services," stated Malinda. "I prepared myself, along with a prayer, for the interview and my interviewer, now my boss, told me that I did really well in the interview."
Three day's after her interview, Malinda was hired. But it was not a straight or easy road to achieving a start to her dream career.
At the age of 19, Malinda found her inspiration for becoming a nurse after the birth of her second child. But because she wanted to focus on her family first, she put her nursing education on hold.
"The nurses during my deliveries were awesome and so caring that I realized I wanted to be like them. You don't forget the nurses that had such a great impact on you during a life changing event."
When her youngest of five children started having health issues, Malinda was back in the presence of nurses and was eager to restart her training in a vocational nursing program.
"I researched all the vocational nursing schools and found Stanbridge College to be the best one. It had the best pass rate for the NCLEX."
Her first term at Stanbridge was difficult as she became overwhelmed after recently moving and dealing with a new city, a new job, and her family. But Malinda's passion for nursing guided her all the way through her diploma program and on to preparing for the National Council Licensure Examination (NCLEX), the certification exam for LVNs and LPNs.
"I was determined to finish school. Nursing is my calling. I had a great experience with Stanbridge and just soaked up all that information that was taught. I tried my best and focused on what was important. Stanbridge definitely provided me with all the tools I needed to pass the NCLEX. Studying those ATI books and practice tests helped a lot."
After becoming a Licensed Vocational Nurse, Malinda was ready to find employment and she found guidance in Career Services at Stanbridge College.
"I always called and asked questions. Sharon spent a lot of time helping me perfect my resume, giving me lots of advice, helping me with my portfolio and more. And that 'Ace the Interview' workshop really helped me. I read and studied the information before my interview. I was asked many of the questions that were presented at the workshop. I also reviewed my mental health book before my interview, knowing I was applying for a mental health nurse position."
Currently Malinda is training and working at La Palma Intercommunity Hospital administrating medications, taking vital signs, and providing bedside care to patients. She looks forward to training in its Med-Surgical Unit. But Malinda has her sights set on continuing her education and keeping her life fulfilled by helping others.
"I want to excel as a nurse. I want to care for people the way I would want to be cared for. I have a passion for nursing. Though I may make more money with my previous non-nursing job, I don't feel as fulfilled as I do when I spend a day taking care of people."
For students or graduates currently looking for employment, Malinda recommends speaking with Career Services at Stanbridge College, taking the Ace the Interview Workshops and preparing yourself to impress.
"Prepare yourself before the interview and know ahead what you are going to say about yourself. Get advice from your career counselor and take the Ace the Interview workshops. Review the questions they provide from these workshops because the employers do ask those same questions," stated Malinda when asked her for advice for students and job seekers.
More importantly, she states, "Be confident and believe in yourself."
For more information on the Diploma in Vocational Nursing and the NCLEX pass rate at Stanbridge College, please visit www.stanbridge.edu or contact us at 949-794-9090.