Homeless Veterans Need Our Help: 2012 Orange County Stand Down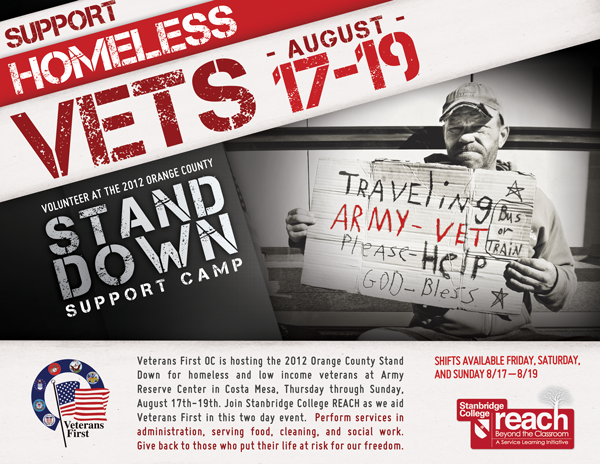 Veterans First OC is hosting the 2012 Orange County Stand Down for homeless and low income veterans in August. Join Stanbridge College REACH as we aid Veterans First in this three day event for veterans and their families to access basic services, bond with their fellow veterans and start rebuilding their lives.
The Orange County Stand Down will provide a one-stop shop for homeless and at-risk Veterans to get matched with essential services such as medical, dental, and vision exams, employment and housing assistance, as well as Veterans benefit identification and assistance. Volunteers needed to assist with medical, dental and vision exams, registration, tent assignment, serving meals, and more.
Volunteers are needed to help with:
–          Set up and take down
–          Data entry for veteran participants information
–          Tent assignment at the registration table
–          Literature distribution
–          Kitchen patrol
–          Litter removal
–          Water station
–          And more!
Event details:
Date: August 17 – 19, 2012
Time: Shifts available Friday, Saturday and Sunday 8/17 – 8/19
Location: Army Reserve Center – 2651 Newport Blvd, Costa Mesa, CA
Volunteer Registration Deadline: August 3, 2012 at 5:00pm
Register: Click here to register online or email vsauer@stanbridge.edu
When you sign up Stanbridge College REACH will send you a Volunteer Registration form for you to fill out, and fax or email in to Veteran's First OC.
For more information on the 2012 Orange County Stand Down, click here. To learn more about Veterans First OC, please visit: www.veteransfirstoc.org
We hope to see you at this great event!