Stanbridge College has it in its blood: Blood drive assists Red Cross during critical blood shortage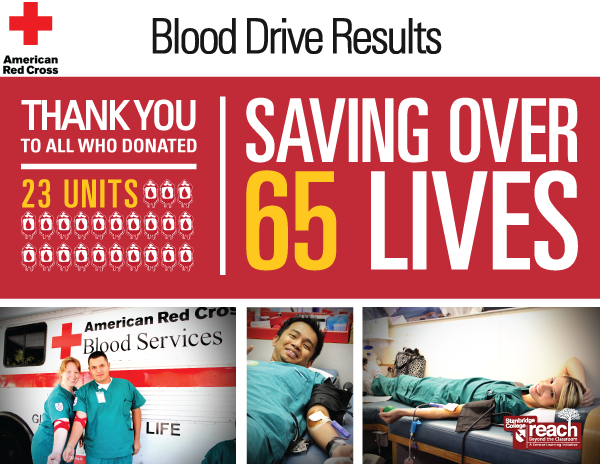 Stanbridge College recently partnered with the American Red Cross for its' quarterly blood drive on October 11, 2011. Stanbridge College nursing, IT and occupational therapy students, staff and instructors donated 23 units of blood. According to the Red Cross, Stanbridge College donors will assist in saving the lives of 69 people in need of blood transfusions.
According to Red Cross President Dr. Bernadine Healy, the United States is in one of the worst [blood shortages] that the Red Cross has seen."
ABC News reported that the Red Cross needs an estimated 80,000 units per day, but now only has 36,000 per day. The lack of blood is causing a decrease in elective surgeries across the nation. According to the Red Cross, it is normal for blood donations to decrease in the summer months, however having a crisis in fall is alarming.
Stanbridge College's quarterly blood drives are a part of its REACH Beyond the Classroom Serving  Learning initiative. Last quarter, Stanbridge donated 18 units of blood, assisting in saving the lives of over 50 people.
REACH is a Service Learning and Civic Engagement initiative that strives to build life-long engaged learners through community service. The REACH initiative provides students with opportunities to give back to their local Orange County and global community while earning credit towards coursework in a structured environment. To learn more about Stanbridge College's REACH – Beyond the Classroom, visit the Stanbridge College at www.stanbridge.edu/reach.
Continue to REACH
Stanbridge College encourages its students and the public to continue to reach beyond their classroom and daily lives to support the American Red Cross. Call 1-800-RED-CROSS or visit http://www.redcrossblood.org to schedule your next donation appointment.
Stanbridge College will be hosting next quarter's Blood Drive in February. We hope to see you all there!