Stanbridge College Gathers Over 30 Bags of Donations for Homeless Families of Project Hope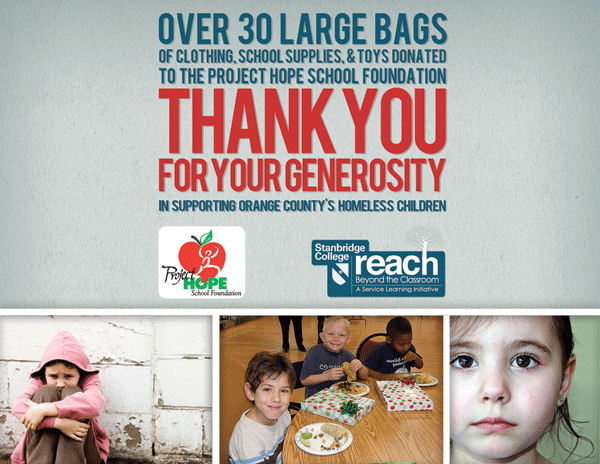 Last week's Food and Clothing Drive for the homeless students and families of Project Hope School Foundation was a great success. We would like to thank all of the students, staff and faculty who donated to this wonderful Orange County organization during this event.
Together we were able to gather over 30 large bags of clothing and household and hygienic items for adults and children. Items included canned foods, toothbrushes, toothpaste, sweaters, jackets, blankets, children's toys, school supplies, pajamas, socks and more.
Project Hope School Foundation, an organization dedicated to the transition of children without permanent housing into mainstream education, hosted a Family Resource Day on July 30th. On this day, the students and families of the school received the donations provided by Stanbridge College and other organizations. 
When the Stanbridge College van pulled up to Project Hope School, the students, ranging from Kindergarten to 6th grade, aided Stanbridge staff in unloading the donations and bringing them into Project Hope's multipurpose room.
Continue to REACH

Project HOPE School was founded over 20 years ago to meet the academic and psycho/social needs of homeless children (primarily from transient families living in motels). To learn more and continue to donate, please visit http://projecthopeschool.org/make-a-difference/.
To learn more about Stanbridge College REACH and our upcoming events, please visit www.stanbridge.edu/reach.