Stanbridge Serves Up Hope for the Homeless Children of Project Hope School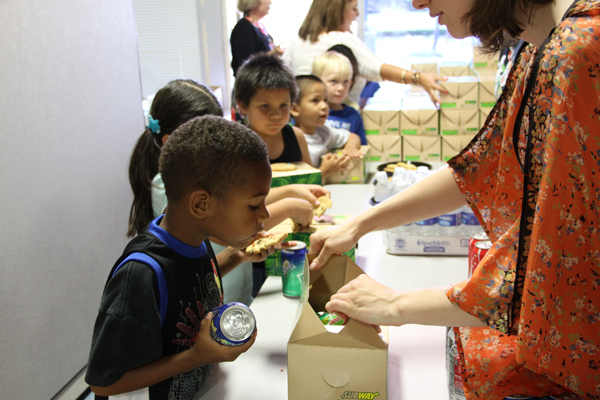 As part of its continuing support of Project Hope School Foundation, on Friday, July 22nd, the Stanbridge College partnered with Subway to provide a nutritious lunch to some of Orange County's homeless children at the Project Hope School. As the children were released to line up for lunchtime, the REACH team was prepared to hand out over 60 Subway to-go lunch boxes to the students, staff and teachers. The children were provided Subway ham or turkey foot long sandwiches, apple slices and a cookie. To the delight of most, if not all of the children, Subway graciously donated extra cookie platters, sodas and waters.
"We truly appreciate Stanbridge College's continued support of and commitment to our students and teachers," said Pam Reed Allison, the Executive Director of the Project HOPE School Foundation.  "The majority of our students come from extremely low-income families and live transient lifestyles, moving from motel room to motel room.  They rarely have the opportunity to eat out.  It's truly a treat when the kids get a break from the regular food provided by the county and are able to enjoy a fun and tasty meal."
Of the 22,000 children without permanent homes in Orange County, those that attend Project Hope School Foundation are provided the educational resources to transfer into mainstream education by 9th grade. With education and extra curricular activities, Project Hope School hopes to assist in breaking the cycle of homelessness.
"It is a pleasure to be able to continually support and work with Project Hope School Foundation," stated Stanbridge College President, Yasith Weerasuriya. "We are very pleased to know that our efforts and Subway's gracious donations gave the children a nutritious lunch and big smiles. The teachers and staff at Project Hope School are doing a tremendous job for Orange County's needy."
During their lunch, the Stanbridge REACH team was able to meet with the children, talk to them about their classes and how much they enjoy eating the wide variety of cookies provided by Subway. The children talked about their classes, recent activities and the movies they watched before the busses came to take them off to the Boys and Girls Club organization.
Continue to REACH
To learn more about the Project Hope School Foundation and donate please visit http://projecthopeschool.com/the-foundation.
Watch for more REACH events on the Upcoming Event section online.