Stanbridge College Food and Clothing Drive for OC Homeless Children of Project Hope School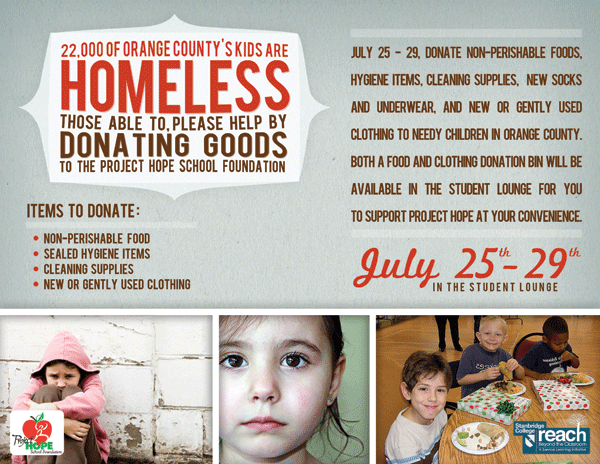 Its time to make a difference in a homeless child's life! Stanbridge College is holding a food and clothing drive for the homeless children and families of Project HOPE School Foundation.
Food and Clothing Drive  –  Monday, July 25th to Friday, July 29th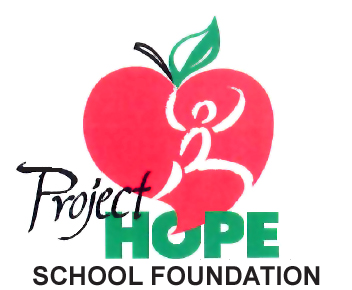 Project HOPE School currently has a total of 60 homeless children and about 50 families that are in need of an extra helping hand. Project HOPE School Foundation would like to be able to give each family essential items and services that will kick off the new school year in a positive way.
In order to pull this event off successfully, we will need as much support as possible. We kindly ask that you please spread the word and help us gather the following items if you are able to do so:
Non Perishable Food
Hygiene Items (e.g. shampoo, conditioner, body wash, lotion, face wash, Q-tips, lice kits, diapers, etc.)
Household Cleaning Supplies (e.g. dish soap, laundry detergent, toilet paper, etc.)
New Socks & Underwear (children and adults)
Pajamas (children and adults)
Clothing (new or used for children and adults)
Donation Location: Please drop off donations in the Stanbridge College student lounge. There will be two bins for donation items. One bin will be marked food and items and the other bin will be marked for clothes.
Your help is greatly appreciated and would be imperative for the families of Project HOPE School.
Continue to REACH
Learn more and continue to donate to Project HOPE School at: http://projecthopeschool.org/make-a-difference. For more information on Stanbridge College REACH Beyond the Classroom, please visit REACH online.