Faculty Spotlight: Dr. Kaitlin O'Hara, MSOT Instructor
This week's Faculty Spotlight brings us a story of passion, growth, and success. We're getting to know Dr. Kaitlin O'Hara, an instructor in the Master of Science in Occupational Therapy (MOT) program at the Orange County campus (and avid rock climber!), as she shares her experience at the Occupational Therapy Association of California (OTAC) Annual Conference.
What is your background and education?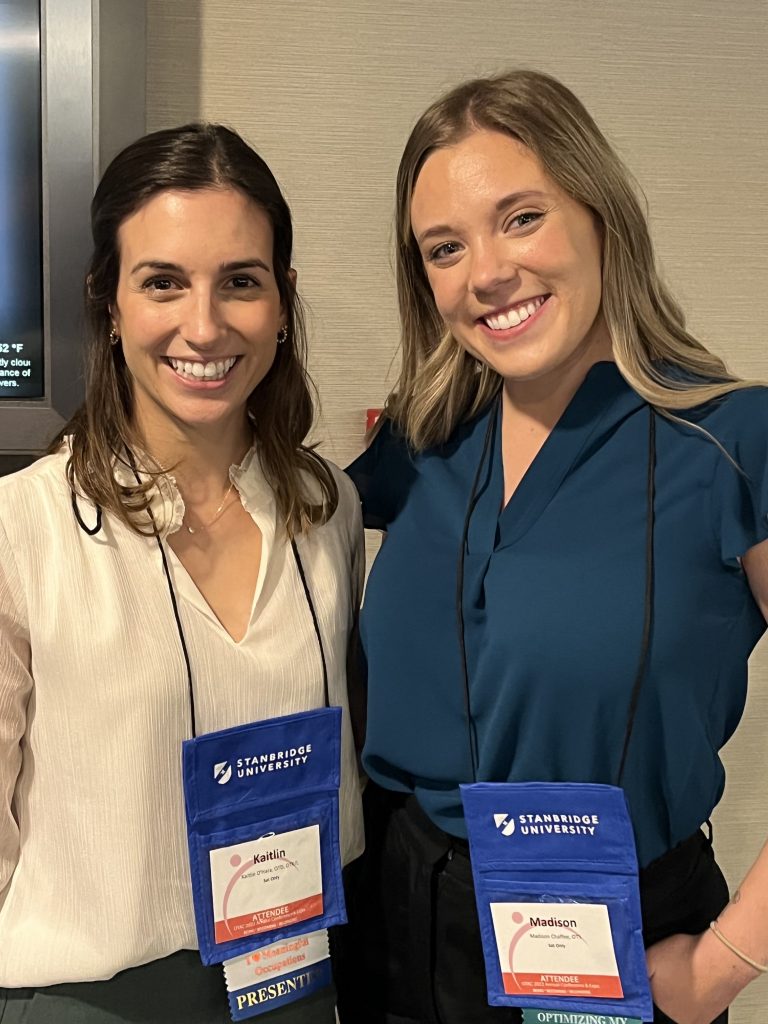 I am Southern Californian, born and raised. I grew up in Orange County and moved to LA to attend USC for undergraduate and graduate school. I am a Trojan through and through – I received my BA in Psychology, MA in Occupational Therapy, and Doctor of Occupational Therapy degrees from USC.
I have been an occupational therapist for around five years and have worked through the hospital continuum of care for my entire clinical career. I started during my residency in outpatient rehabilitation for individuals with chronic conditions (think diagnoses such as migraines, fibromyalgia, and epilepsy). I then transitioned to inpatient rehabilitation (worked with patients with major, life-changing diagnoses like strokes, brain injuries, and spinal cord injuries). Most recently, I worked in acute care (Emergency Room, Intensive Care Units) with acutely and critically ill adults.
Acute care has been, by far, my favorite environment to work in! I love the hustle and bustle of the hospital environment, the challenge of working with medically fragile patients, and the multidisciplinary teams…it was such a great learning experience!
What brought you to Stanbridge and what's your role here?
I was working at UC Irvine Medical Center when one of my co-workers, who is also an MOT adjunct faculty at Stanbridge, asked if I was interested in giving a guest lecture. I gave the lecture on the role of occupational therapy in the emergency room, and a few months later, I was hired as full-time faculty! I am currently in a split role between MOT teaching faculty and being an Academic Fieldwork Coordinator.
What drew you to Stanbridge University's MOT program?
I was initially drawn to Stanbridge by the students I interacted with in my initial guest lecture and the faculty members who guided me through that initial process. If I had such a positive experience teaching the cohort for one hour, teaching them (and other cohorts!) for several years would be wonderful.
How was your experience at the 2022 OTAC Annual Conference?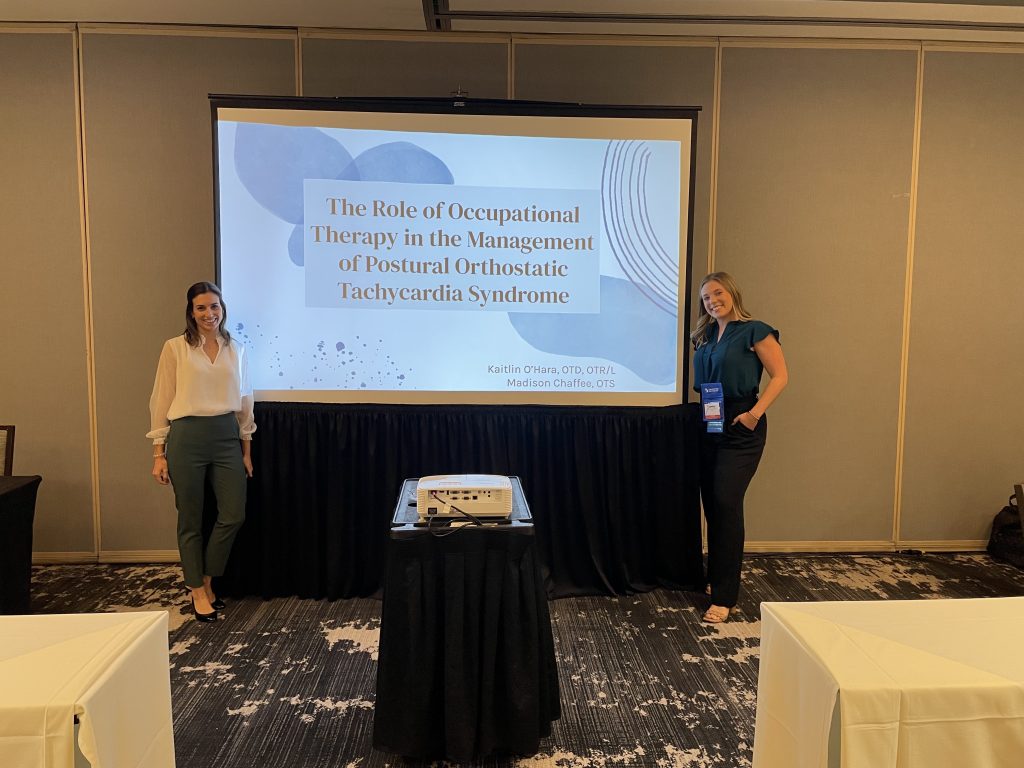 Occupational Therapy Association of California conferences are always a wonderful experience! My favorite part of professional conferences is seeing former professors, classmates, and colleagues. My favorite experience at this past Occupational Therapy Association of California (OTAC) Annual Conference was running into one of my professors from my master's program. During my MA, I admired this professor endlessly and wanted to be just like her when I was out in the field. She worked in hospitals during her clinical career and taught our kinesiology and adult physical rehabilitation courses.
Several years later, all of my clinical experience is in hospitals, and I teach our Human Movement lab (a kinesiology-focused course) and Occupations of Adults (an adult physical rehabilitation course), so who's to say if I turned out like her?
How was your experience working with Stanbridge OT Student, Madison Chaffee, and presenting with her at OTAC?
Madi is an absolute rockstar of a student! I am so thankful that Madi was placed in my thesis group. She and her group members could not have been a better bunch for my first time advising a thesis. Madi is a team player who always comes to meetings and class with a great attitude. She is the type of student who sits in the front row, gives you her undivided attention, and finds intrinsic value in her work. If I ever need OT in the future, I want Madi to be my therapist!
What led to the topic you presented at the conference?
I chose to study the role of OT in managing Postural Orthostatic Tachycardia Syndrome (POTS), as it is one of the top comorbidities with long COVID. I worked in acute care during the height of the pandemic, and I was particularly interested in the long-term impacts of COVID. Due to my background in chronic condition management, I was interested in OT's role in managing POTS, as it involves a high level of lifestyle management.
What's your favorite part about teaching in the MOT program? 
I love the smaller class sizes and close-knit faculty. The smaller class size has allowed me to get to know my students not only as people taking my class but also as future clinicians and, most importantly, as people! Our department's faculty is also very close, and we support each other in every way possible. I have loved working on this team!
How do you think Occupational Therapy will change in the next 10 years?
With my background in chronic condition management, I would love to see OT take on a more prominent role in preventative and pre-habilitative care. We have so much to offer our patients in terms of keeping them healthy and preventing the onset of illness or disease. I hope medical providers recognize our distinct role in that space in the next decade.
What do you like to do for fun when you aren't teaching or researching?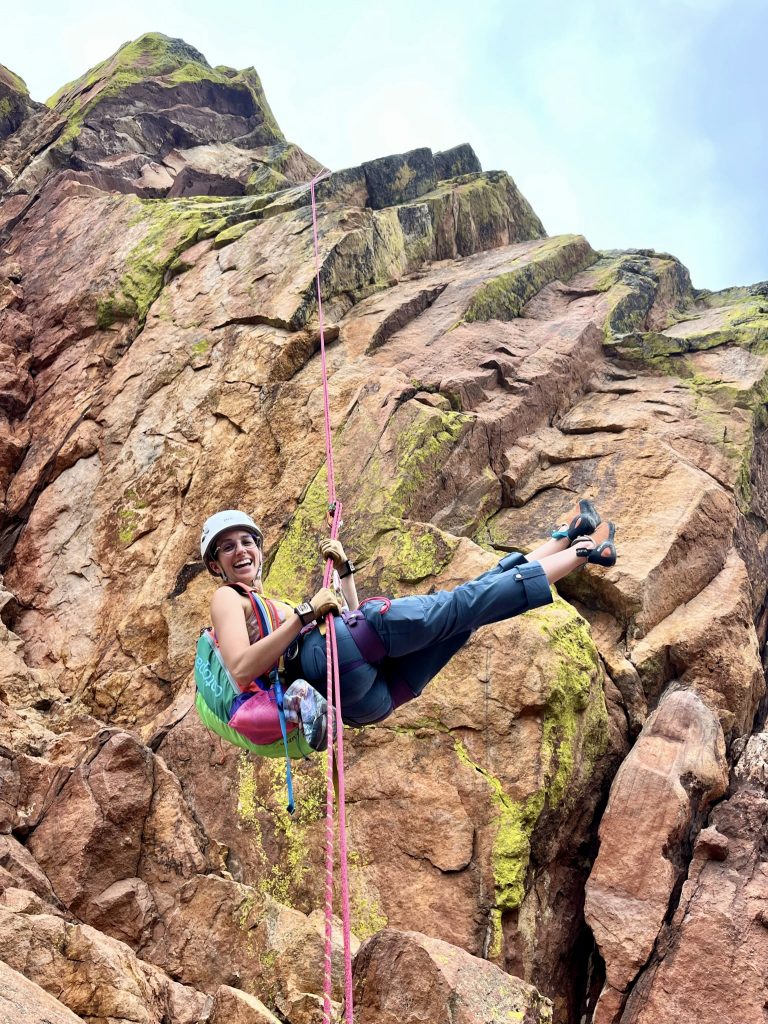 OTs love this question! Our favorite icebreaker is always, "What's your favorite occupation?"
My favorite thing to do when not teaching (though I do love teaching!) is rock climbing! I climb in the gym 3-5 times per week and try to go on outdoor trips at least once per month to check out a new climbing area.
In 2022, I climbed in Rocky Mountain National Park and throughout the Front Range in Colorado, Smith Rock State Park in Central Oregon, Yosemite, Red Rock Canyon outside Las Vegas, and several spots local to southern California, including Joshua Tree, Big Bear, and Malibu.
Learn more about Stanbridge University's Master of Science in Occupational Therapy program.