Stanbridge Alumni Spotlight: Veterinary Technician Graduate Chelie Kolano
Stanbridge University presents Alumni True Stories to shine a light on our hardworking graduates. Get to know Chelie Kolano, a Veterinary Technology alumna who decided to pursue our VT program to make a difference for animals and pet owners in the community.   
Where are you working and what is your current role?
I work for VCA Corporations (Veterinary Centers of America) as a Registered Veterinary Technician (RVT). I'm a Room Nurse and an Emergency Technician on Sundays.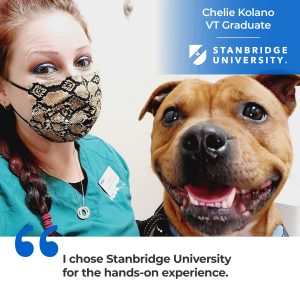 Walk us through a typical day for you as an RVT.
My days vary based on who I am with. Generally, I come in and check the calendar for the day. Then, I start checking in drop-offs, pulling blood, and placing catheters on those who need it. By the time that is done, we start our routine appointments, which can vary from an ear infection to a pregnancy radiograph. As my facility is also a 24-hour emergency hospital, we also address walk-ins and add those to our schedule where we are able. If we are doing a surgery that day, it is up to me to get that table set up, calculate the drugs, and make sure my patient is pre-medicated before we go in. My days are rarely the same. I can be assisting with acupuncture or a cesarean section at any given time, and it helps break up the regular routine you see with general practice. 
What are the things that you love about working in Veterinary Technology? 
I love being able to help out our patients in need and watching them grow. The people's side of it isn't too bad either. To be there for a client in need and to help comfort them at a time of loss isn't always easy, but it is something I don't mind doing. I feel that this industry caters to both animals and humans. We need to be able to work with both to provide the best possible patient care, and that is what I love to do. 
Have you had a recent patient experience that you felt confident about?
This question is difficult to answer as I am generally confident about most of my experiences. Veterinary medicine is about trust and teamwork. Working with my fellow peers and doctors to provide the best care possible makes me confident about patient care. I know that working together as a team, we can figure it out no matter the issue. 
Why did you choose Stanbridge University's Vet Tech program? 
I chose Stanbridge University for the hands-on experience. I am not the best online learner, and I really loved the support we received from our professors. They made the experience worth every moment. 
How do you feel Stanbridge prepared you for what you are doing now?
I feel very blessed that Stanbridge prepared me for some of the things you wouldn't usually see. I feel confident in CPR and placing catheters because Stanbridge allowed us to practice as much as we needed and provided us with all the tools and supplies to do so in a safe environment. I very much enjoyed the Sim Lab and Cadavers. Practicing on lifelike replicas made it possible to go out into the world more confident in my abilities. 
Any favorite Stanbridge memories, classes, or instructors?
Ms. Fort and Ms. Gimeno made Stanbridge one of the most memorable and enjoyable experiences. Coupled with my awesome cohort, I now have friends that I wouldn't trade for anything—being able to form a rollerskating group and continue to have the support of these friends long after graduation is so invaluable. 
What advice do you have for someone considering applying to Stanbridge's Veterinary Technology program?
You have to apply yourself and really want it. It isn't easy, but it is worth every moment. If you are open to making friendships that will last forever and meeting some incredible professors, it is incredibly life-changing. 
What is your biggest goal right now?
My goal right now is to start focusing on specializing in emergency medicine. 
Anything else you'd like to share?
Thank you to the Veterinary Technology program professors at Stanbridge University. Not only are you there to help us learn and grow, but you play a more important role than you realize. You help us become the best RVTs we can be, and you allow us to build confidence and guide us to higher standards. Keep setting the bar higher and higher. It's exactly what this profession needs. 
To view more inspirational stories, visit Alumni True Stories.
If you or someone you know is interested in becoming a Veterinary Technician, visit the Stanbridge University Vet Tech program for more information.

Stanbridge Grads – we want to hear from you!
Email media@stanbridge.edu to share your story!