Stanbridge Alumni Spotlight: Vet Tech – Jazmine Rosales
Stanbridge University is highlighting Alumni True Stories because we're proud of all of our hardworking graduates. We got to know Jazmine Rosales, a Stanbridge University Veterinary Technology alumnus who just recently passed the Veterinary Technician National Examination (VTNE) and became a Registered Veterinary Technician!
Where are you working and what is your current role?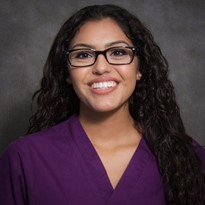 I recently got a new job working at VSEC in Thousand Oaks. My role will be a Registered Veterinary Technician (RVT).
Walk us through a typical day for you as an RVT.
My typical day is checking the patients every hour to see how they are doing and giving them the treatment that they need.
What do you love about working in veterinary technology? 
I love the new people I get to work with and build great friendships. I also really love working with animals.
Why did you choose Stanbridge University's VT program?
I chose Stanbridge because I took a campus tour and saw all the interaction and how hands-on everything is.
How do you feel Stanbridge prepared you for what you are doing now? 
I feel that Stanbridge prepared me very well. It taught me what to expect out in the real world and what not to expect.
Any favorite Stanbridge memories, classes, or instructors? 
I do want to shout out my instructor Maribel Fort, RVT, who has been my mentor since I graduated. She has been there for me through it all. The good and bad.
What advice do you have for someone considering applying to Stanbridge?
My advice would be STUDY! Trust me, studying may not be fun but it will be worth it in the end and give you that knowledge and skill you need. I would also try to get a job in the field starting out as a kennel assistant or a dog walker, etc. Anything to get hands-on experience, because it will go hand-in-hand with what you are learning in school. I wish I would have done that when I was in school.
What is your biggest goal right now?
My biggest goal right now is to just learn and absorb more knowledge and take it with me wherever I go.