Vet Tech Program Fellowship: Animals & COVID-19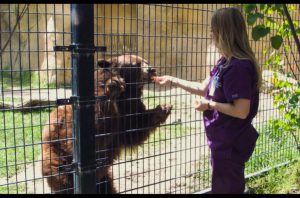 Stanbridge University's Vet Tech Program was created for students with a passion for animals, seeking to further their education in order to fulfill their dreams of becoming a veterinary technician.
Sara Wright is one of them. In her last term at the university, she's already made quite a mark in the animal kingdom, thanks to her time at Lions, Tigers, and Bears big cat and exotic animal rescue. Bonding with big cats reinforced her desire to improve animals' lives everywhere. But when COVID hit and she had to reimagine her fellowship work, she knew just what to do.
"Originally my project was to work at the Lions, Tigers, and Bears (LTB) Wildlife Sanctuary in Alpine, CA." she explains. "I was able to volunteer there for a very brief period of time before the pandemic hit and changed everything for everyone. Because I didn't know how long the lockdown would last or what the implications of the virus would become, I realized I had to change the nature of my project to be able to complete the fellowship hours. I was given carte blanche to redefine my project, but was inspired by the incredible animals and staff at LTB. There were breaking news stories coming out about animals testing positive for the Coronavirus, so I decided to look further into it."
Can Animals Get COVID-19?
As of November 2020, there are 1,842 confirmed positive Coronavirus cases in animals across the United States. The first case was detected in March 2020 in a tiger at a New York zoo. Since then, more animals have been contracting the virus from human handlers or owners who are actively shedding COVID-19, regardless if symptomatic or asymptomatic.
The animals most affected by COVID-19 are cats and ferrets. Dogs can also be affected, to a lesser extent. While animals can contract the virus from humans, there is no evidence to show that animals can give the virus to humans. However, the lack of common knowledge regarding animals and COVID-19 transmission has been problematic. Wright set about to fix that.
Fighting COVID Misinformation
"There was so much information being released that it was hard to discern the facts, and people were getting really scared, to the point of relinquishing and surrendering their pets for [a false sense of] their families' safety," Wright says. "I decided to conduct a research project that ultimately helps animals by educating humans. I wanted to provide an easily digestible, one-stop resource to find core facts about the impact of the Coronavirus on the animal population, while also including the references if people wanted to find more detailed information."
Stanbridge University's Vet Tech Program helped bring Sara's fellowship program goal to life.
Support from Stanbridge University's Vet Tech Program
"Stanbridge University and the California Campus Compact-Community Engagement Student Fellow program provided me with the wonderful opportunity to experience the Lions, Tigers, and Bears Sanctuary! When the pandemic hit, I was also given the chance to choose how I continued my project," Wright shares. "All of the information being released about COVID-19 and the animal population seemed geared more towards the animal medical professionals, but because of my unique perspective gained from my continuing education at Stanbridge, and being a pet owner myself, I wanted to make this information available to the masses in a digestible manner. Stanbridge provided me that incredible opportunity."
What Do You Learn in a Vet Tech Program?
"A registered veterinary technician (RVT) learns a wide variety of tasks such as how to properly hold an animal during treatment, how to assess an animal's level of pain, how to calculate and administer anesthesia, how to perform radiographs and ultrasounds, and how to administer medications." Sara states. "We also learn about various exotic animals and how to care for them."
Wright regularly volunteers at animal hospitals, helps with a multitude of rescue and foster programs, and even fosters dogs with severe physical or emotional trauma to aid in their rehabilitation. Her goal is to become a Registered Veterinary Technician and work in wildlife response and rehabilitation, caring for animals affected by natural or man-made disasters.
"I have a quote from Carmelo Anthony saved on my phone that says, 'every morning you have two choices: continue to sleep with your dreams, or wake up and chase them.'" Sara shares. "It motivates me to choose to work towards my goals. I've decided to chase my dream and passion instead of just thinking about it. I want to help and heal animals; be the voice for the voiceless. In my opinion, the way I could have the most impact was by going into the medical field and learning the hard stuff."
To learn more about Stanbridge University's Vet Tech Program, visit stanbridge.edu.
For more information on Wright's project, including vital information regarding animals and the Coronavirus, you can view her detailed informational pamphlet below: