4 Qualities & Skills You Should Have as a Vet Tech – Stanbridge University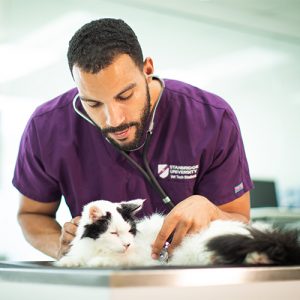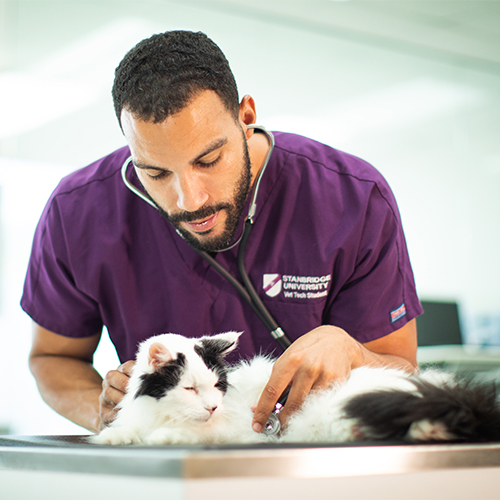 Do you have the Vet Tech skills and qualities needed for an exciting career as a veterinary technician? Veterinary technicians, also called vet techs, provide vital animal patient care in a variety of settings!
Furthermore, in addition to providing a rewarding career option for animal lovers, vet techs are in high demand. For instance, job outlook is projected to grow by 19%. This is certainly faster than average.
But what makes a good Vet Tech great? According to Veterinary Practice News, professional veterinarians believe that personal qualities "have more to do with a vet tech student's long-term success as academic strengths."
Therefore, here are the top five qualities of a fantastic Veterinary Technician:
Adaptability
Patience
Integrity
Compassion
But what do these qualities mean in practice?
Valuable Vet Tech Skills
Be Flexible and Ready to Learn
First, a great Vet Tech is flexible. Veterinary medicine can be a challenging field. Therefore, the ability to learn and adapt to any situation is certainly important.
Veterinary technicians are able to work in a variety of facilities and environments, offering flexibility and personal preference for specialization. For example, vet techs can work in veterinary practices, biomedical research, and zoo and wildlife medicine in addition to livestock health management, pharmaceutical sales, and more.
Because of this variety, vet tech students must be flexible. Veterinary Practice News describes this quality of learnability as one of the most important traits a vet tech can have.
"You undoubtedly will enter the veterinary profession with a wealth of knowledge, skills and experiences," writes Katherine Dobbs, RVT, CVPM, PHR. "However, you also have to admit that you do not know everything, and you must be able to be taught what you do not know. So this involves an open-minded attitude that exhibits your desire to learn, and your ability at actually being able to learn."
In short, be ready to learn new skills all of the time!
Don't Get Your Tail in a Twist
Secondly, patience is certainly important as a great vet tech – not only for handling animals but also dealing with owners. As a vet tech, you will be dealing with all kinds of people. Whether it be animals, clients, or coworkers, a small amount of patience and empathy can go a long way towards helping you achieve a positive result.
Honesty and Integrity
According to Stanbridge University's Director of Veterinary Technology, Ms. Emma Cusack, professionalism is key for vet techs. Furthermore, with professionalism comes honesty and integrity. A great vet tech is honest with, listens to, and respects authority and coworkers in addition to patients and their owners. As a result, this establishes a bond of trust between you, which is important in the veterinary medicine field!
Making a Difference
Becoming a vet tech means committing to a career that cares. Compassion for animals in addition to passion for veterinary medicine can help as you train, practice, and work towards becoming the best vet tech you can be!
In conclusion, above all, vet techs seek to help animals in need to the best of their ability. If you are adaptable, patient, honest, and compassionate, becoming a vet tech could be the right fit for you.
Want to train for a rewarding career caring for animals? Find out more about Stanbridge University's Veterinary Technology program today.