Vet Tech Schools Southern California: Find Your Fit at Stanbridge University
Vet Tech Schools Southern California: Find your calling as a Registered Veterinary Technician (RVT)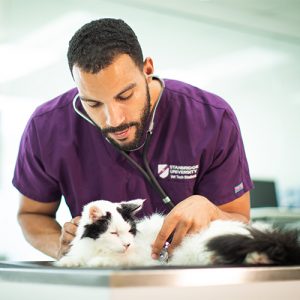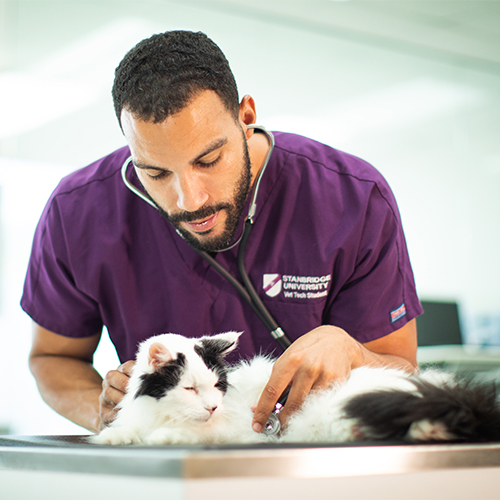 If you're looking for Vet Tech Schools Southern California, Stanbridge University might be the right fit for you.
Firstly, do you love animals? Secondly, do you want a career where you work with animals every single day? In short, Registered Veterinary Technicians (RVTs) take their love for animals to a whole new level!
Moreover, with employment rates projected to grow 20% from 2016 to 2026 (according to the Bureau of Labor Statistics), becoming an RVT is an exciting, high demand career path.
Therefore, if caring for animals is your passion, consider Vet Tech Schools Southern California!
Vet Tech Programs Southern California: What do RVTs do?
Veterinary technicians work alongside veterinarians and take part in a variety of animal clinical and care tasks. Some of the skills you'll learn in a veterinary technology program include:
Conducting animal examinations
Providing emergency first-aid
Administering anesthesia and monitoring responses
Performing x-rays and other lab tests
Preparing animals for surgery
Administering medications and vaccinations
Above all, RVTs help animals in need heal and recover.
Vet Tech Schools Southern California: Where do RVTs work?
RVTs often work in private clinics and animal hospitals. However, additional places of work include:
Colleges, universities, and professional schools (state, local, private)
Social advocacy organizations or humane societies
In addition, Vet Tech students at Stanbridge University have gotten the chance to work alongside wolves with Project Wildsong, spreading wildlife preservation awareness. You can find out more about this exciting learning opportunity here!
Learn more! Discover the Veterinary Technology program at Stanbridge University.