Why Become an Occupational Therapy Assistant?
Find your calling as an Occupational Therapy Assistant (OTA)
Unique care and compassion set Occupational Therapy Assistants (OTA) apart in the healthcare industry. As an OTA, you can help people and change lives every single day. They have the exciting opportunity to witness marked improvement in patients' everyday lives. For those who love to help others, pursuing an OTA degree is a perfect choice and the first step towards a rewarding career!
What do OTAs do?
Working under the supervision of an occupational therapist, OTAs provide structured rehabilitation and therapy for patients with disabilities, injuries, or other impairments. OTAs assist those with developmental disabilities or impairments to live more fulfilling, independent lives through activities of daily living – or ADLs.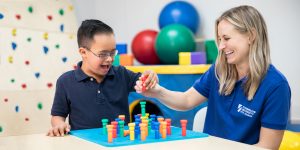 Through interactive therapy, OTAs assist children who have development or sensory disabilities with engaging in activities that promote coordination and socialization. Using specialized equipment, OTAs can also help people with conditions such as Parkinson's disease adapt to everyday life. OTAs help patients regain fulfilling skills like surfing, horseback riding, painting, and everyday functions like cleaning and cooking.
Where do OTAs work?
Most OTAs work full time in the following areas:
Hospitals (state, local, and private)
Nursing care facilities (skilled nursing facilities)
Physical, occupational, speech therapists' offices
Residential care facilities
Home healthcare agencies
Family services
Educational services (state, local, and private)
Government agencies
Careers in occupational therapy continue to grow rapidly. Employment for Occupational Therapy Assistants is predicted to grow 29% from 2016 to 2026, according to the Bureau of Labor Statistics , which is much faster than the average for all occupations!
Occupational Therapy Assistants are driven, compassionate, and skilled. Does this sound like you? If so, now is your time to take the first step towards a fulfilling career in occupational therapy!
Want to learn more? Discover the Occupational Therapy Assistant program at Stanbridge University.