Hands-On Practice with Haptic IV Trainers for Nursing
Stanbridge University provides advanced Haptic Intravenous (IV) Trainers for its nursing programs. Adding this innovative simulation device into the core nursing curriculum ensures that the graduates of these programs can confidently perform any intravenous techniques.
Laerdal Medical Haptic IV Trainers Provide Real-World Practice for Nursing Students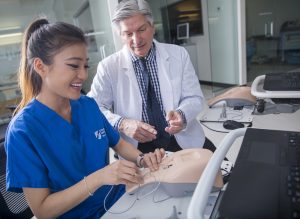 Each Haptic IV Trainer from Laerdal Medical comes with state-of-the-art force feedback to accurately simulate the sense of touch. This provides an immersive, interactive learning experience for nursing students!
The self-directed Haptic IV Trainer device mimics human skin and veins, and the application of innovative life-like force feedback technology revolutionizes hands-on learning. Practice needle procedures provide a realistic feel including the way skin stretches, the pulsation of the heartbeat in the veins, and the size of the veins for different situations.
Using the haptics device, you can practice placing IVs with over a hundred distinct case scenarios on a variety of interactive 3-D arm models. These unique models vary depending on ethnicity, size, age, and sex, which guarantees IV practice with a diverse group of simulated patients.
"Virtual IV simulations allow nursing students to practice IV insertion skills in a non-clinical setting so they may respond appropriately when treating real patients in an actual clinical setting," Alisa Powell at Laerdal Medical said. "Being properly trained prior to practice in a clinical setting is of utmost importance."
Visit our website to learn more about the  Stanbridge University Associate of Science in Nursing (RN) program.