Stanbridge College Unveils One of the Largest Virtual Reality Labs for Medical Training in the US Featuring zSpace Screen VR Technology
Stanbridge College announced that they have opened one of the largest medical training virtual reality labs in the U.S. featuring zSpace virtual reality (VR) all-in-one computers. The lab features software provided by zSpace, as well as partner applications Cyber Science 3D™ and Cyber Anatomy™ that allows virtual dissection of human and animal anatomical models.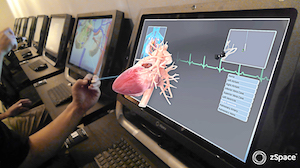 As the 18th lab facility on campus, the VR Lab enables Stanbridge College students to observe and interact with high-fidelity, virtual-holographic 3D models and animations. Students can learn from over 1,000 models of biological and anatomical structures ranging from a cell to a human or animal's body and body systems. These models give students in the Nursing, Occupational and Physical Therapy, and Veterinary Technology programs at Stanbridge College a new perspective on core theoretical concepts needed for patient care.
Using a stylus and 3D glasses, students can virtually 'lift' an object off of the zSpace screen, manipulating and adjusting it to see it at different angles, and magnify it for fine details. Students can dissect layers and components of a model for a deeper understanding of interconnectivity.
"Stanbridge College exemplifies the educational institutions around the world that are pioneering the use of zSpace virtual reality to provide their students with learning experiences that will prepare them to compete at the top of the medical professions," said Paul Kellenberger, CEO, zSpace. "We are excited to collaborate with Mr. Weerasuriya and pioneering faculty members and students."
"Our goal is to give our students every opportunity to learn in a way that fits their needs," said Mr. Yasith Weerasuriya, President of Stanbridge College. "We are very pleased to partner with zSpace Education Systems and expand our classroom technology initiative by adding virtual reality technology to our existing complement of high-fidelity human and canine simulation manikins, synthetic and real human cadavers, and world-class skills labs. This extension of opportunities for kinesthetic learning gives our students an advantage as they prepare for professional licensure and employment."
"The models jump off of the screen and right into the hands of our students," said, Dr. Mark Petersen, OTD, OTR/L, instructor for the Master of Science in Occupational Therapy program at Stanbridge College. "They can move them in all different angles and see every detail of how a neck muscle moves along with the spine or how a heart pumps blood. It's something that no one model, video, photo, book, or live resource can really provide. Our students have both real and now virtual resources to learn and understand complex anatomy, symptoms, pain, illness, and the overall health of their patients and clients."
Stanbridge College's VR Lab will also provide students with access to the Smithsonian X 3D Explorer and thousands of 3D images of items from the institution's museums, research centers, and National Zoo collections.
The new VR Lab at Stanbridge College is one of the facilities on campus with advanced training technology for nursing and allied health programs. Woven into the curriculum, these labs provide simulated environments and real-world equipment for students to learn core concepts and practice their clinical skills. In the past two years, Stanbridge launched the West Coast's first Human Cadaver Lab with synthetic human cadavers from SynDaver™ Labs and real human cadavers. The Veterinary Technology program also opened two fully-functional teaching clinics that provided facilities for surgical, examination, and vaccine clinics for live animals along with the world's first high-fidelity, canine patient training simulator for veterinary technician training.
For more information on zSpace, visit their website or follow on Twitter @zSpace.
To learn more about Stanbridge College and how this institution is helping boost students' career potential, please visit our website or call (866) 837-4075.