Alumni Spotlight: Jesse Valdivia, LVN, Makes the Climb from Retail to Nursing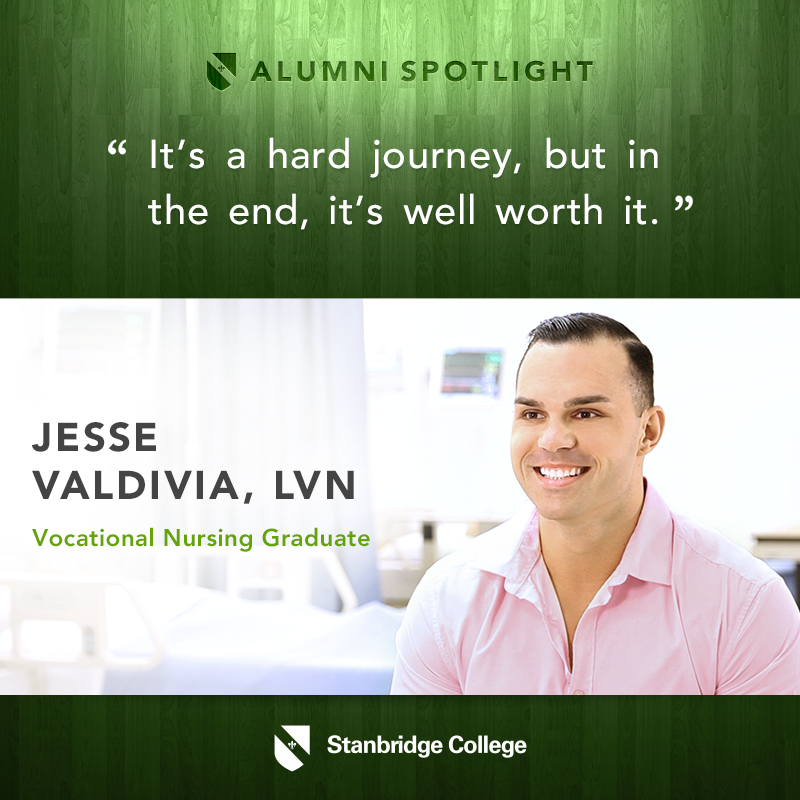 Overcoming the stress of homework, tests, and instructors is not an easy feat, but for Jesse Valdivia, LVN, graduate of the Vocational Nursing program, working hard lead him to the confidence and expertise he needed to be a successful nurse. With a big smile and positive attitude, Jesse Valdivia, LVN, talks about his experience in the Vocational Nursing program at Stanbridge College.
Stanbridge College: What were you doing before you came to Stanbridge College?
Jesse Valdivia: Before I attended Stanbridge College, I was working in retail for almost four years. I wasn't really going any where. I was kind of at a standstill in life.
SC: What was your inspiration for becoming a nurse?
JV: My inspiration for being a nurse came from when I was in fourth grade, I was hospitalized and I remember the nurse being a major contributor to my comfort while in the hospital.

SC: Why did you choose Stanbridge College for your education?
JV: I chose Stanbridge College after a friend of mine, who I was working with in retail, suggested that I go check it out. At the time, I had gone and checked out some other local schools, but once I visited Stanbridge, I decided it was the one for me.
SC: Did you enjoy your experience at Stanbridge College?
JV: My experience here at Stanbridge College was definitely hard. It was hard from the get-go. Right out of the gate the instructors piled it on. It was definitely the biggest challenge I've ever done in my life. However, looking back, I'm glad I did it.
SC: Did you like training in our skills labs? Were the equipment and simulation manikins valuable tools to help you learn real nursing skills?
JV: The training I received in the Stanbridge Skills Lab was excellent. It helped me tremendously throughout my current career and the instructors went into great detail. It's those details that I remember when I'm actually out in the field practicing. Inserting a catheter was a big step for us while in skills lab. Then being able to take that from skills lab and actually apply it in the clinical setting was a huge deal. By the time I was able to do it in the clinical setting I was definitely comfortable.
SC: What was your experience like working with the instructors?
JV: The instructors at Stanbridge College were always there for us whenever we needed them before or after school. They were constantly sending emails and other things for us to study. They went into detail. Sometimes the instructors were tough on us. And, at the time, I wondered why they were so hard when they knew we had homework and tests to study for. But looking back as a professional and when I actually sat and took my NCLEX exam, I realized why they were tough on us. I passed the NCLEX with no problem.
SC: What was your experience like preparing for and taking the NCLEX exam?
JV: So far taking the NCLEX exam was the biggest test of my life. When I sat down for my boards and went through the questions, I knew I was comfortable. I felt like I had seen it before and it was nothing new to me.
SC: Looking back, do you feel your decision to go to Stanbridge was a good choice?
JV: Attending Stanbridge College was a great decision for me. It set me up with the skills I needed to develop as an LVN, to pass my NCLEX exam, and to have the career that I have now.
SC: Tell me about your current employment. What do you do?
JV: I work as an LVN here in Orange County. I take care of geriatric clients. I utilize the skill set I obtained here at Stanbridge College.
SC: Did you work with Stanbridge College Career Services to get your current position?
JV: Career Services was great in helping me find a position that was right for me. I worked with them on a day-to-day basis. They helped me review my resume, send it to potential employers, follow up, and gave me interview guidelines on how to be successful in an interview.
SC: What guidance do you want to share with current VN students?
JV: Prepare for a journey. It's a hard journey, but in the end, it's well worth it. You have to stick with it. It's going to be tough. There's going to be times where you might reconsider and ask, 'is this for me?', but I promise if you just stick with it and trust in those around you and in your instructors, you're going to be OK.
SC: What do you hope to achieve in your career as a nurse?
JV: I definitely see myself continuing in nursing. Continuing my education is huge for me. Now that I'm already in the game and out there working as a nurse, I definitely see myself moving up the career ladder in the field of nursing.
Learn more about the Vocational Nursing program at Stanbridge College by visiting www.stanbridge.edu.