Spotlight: Nursing Alumnus, Sheila Nazareth – Proud to Be a Stanbridge Graduate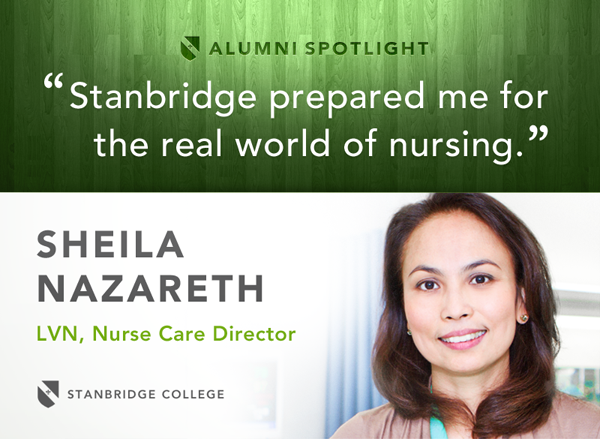 Whether it was walking back into a classroom after several years of working multiple jobs or inserting a gastronomy tube into a patient, Sheila Nazareth, Nurse Care Director for Aegis Living, found the confidence and support to do it at Stanbridge College. For the valedictorian of her nursing class, Stanbridge College offered a flexible schedule, supportive instructors, and industry relevant skills that helped her become the nurse she is today.
In her spotlight, Sheila describes her experience at Stanbridge College, the hands-on training alongside expert instructors, and why she wishes she made the decision to go to Stanbridge a lot sooner.
Stanbridge College: What were you doing before you came to Stanbridge College?
Sheila Nazareth: Before attending the nursing program at Stanbridge College, I worked as a caregiver/administrator for two residential care facilities and did private caregiving. I also worked as an administrative assistant for a geriatric care management company, doing case management on the side.
SC: What was your inspiration for becoming a nurse?
SN: I always wanted to be a doctor, but when I was in my pre-med program I did community service in indigent communities as part of my internship. While there, I realized I was going to be a poor doctor because I wanted to help patients who would not be able to afford medical services. I would want to give my services for free. So I worked in a hotel as a reservation officer, a tour guide at the Department of Tourism, put up a computer café, but nothing satisfied me. The need to take care of people was so strong in me that when I became a caregiver, it brought back the urge of wanting to heal people. So, I did the next best thing, I became a nurse.
SC: Why did you choose Stanbridge College for your education?
SN: While I was in the process of choosing which school to go to, I liked that Stanbridge allowed me to be flexible with my time. I was working 40 hours a week and the flexibility of the part-time nursing program gave me the opportunity to work and go to school. More importantly, it offered a supportive learning environment. That was really what made me choose to go with Stanbridge.
SC: Did you enjoy your experience at Stanbridge College?
SN: Going to Stanbridge was one of the best decisions I've ever made. Now, looking back, I always ask myself what took me so long. I went to school with the apprehension of not being able to keep up with the new technology and methods of teaching. But, I had so much fun. My classmates made me feel young again and my teachers were very supportive and encouraging. Our instructors offered us a lot of hands-on training to get us all ready for the real world.
SC: Did you like training in our skills labs? Were the simulation manikins and equipment valuable tools to help you learn real nursing skills?
SN: I always looked forward to the two weeks in the Nursing Skills Lab where we would study before we were sent to the clinical sites. I took advantage of the opportunity and utilized all of the available resources to master the skills just so when I got to the clinical sites, I was ready and confident to perform the skills on real patients. Working in the skills lab really gave me the confidence to do the skills I needed on the floor. When we worked with the simulation manikins, I had always approached them as if they were real patients to help me concentrate.
SC: What was your experience like working with the instructors?
SN: The instructors at Stanbridge really helped me a lot. Their expertise inspired me to learn more and be the best that I can be as a nurse. They challenged me to reach my goals. They instilled in me the discipline and principles of clinical nursing. Our mutual trust in each other brought out the best in me and helped me believe in my capabilities which helped me achieve the skills I needed to become the professional nurse that I am today.
I remember one time, when we were practicing [gastronomy tube] care, we were supposed to be inserting the tube into the manikin and making sure it was going the right direction. But for some reason the tube kept coiling so we had to take it out and try again several times. But the instructor at that time was very patient.  That really made a very big difference for me and my classmates. We were nervous and when you are being tested it is hard to mentally focus, but the clinical instructors were very supportive and were always ready to answer questions.
SC: What was your experience like preparing for and taking the NCLEX exam?
SN: I thought the NCLEX exam preparation at Stanbridge was a great experience and review for the actual test. I did the ATI practice tests and for about five weeks my virtual ATI instructor was my best friend. I emailed her every day after finishing the chapter reviews and exams. I told her what my weaknesses were and she helped me concentrate on those challenging topics. That really helped me a lot.  And as soon as I got the green light from her, I took the NCLEX right away.
SC: Did Stanbridge help you achieve your goals for your career?
SN: I went to Stanbridge so I could do more as a caregiver on a professional level, and that is to be a nurse. I never imagined it would bring out the best in me as a person. One day I came to Stanbridge College to see what options I had for my education, enrolled in the program and went to class with the desire to enjoy the opportunity to learn and fulfill a dream. I never imagined that two years later, I would graduate as the Valedictorian and Summa Cum Laude. When I started to go through the interview process, the people I interviewed with saw how proud I was of this school. Stanbridge College equipped me with the right knowledge and skills which prepared me to take on the challenges of this career.
SC: Tell me about your current employment. What do you do?
SN: I work as a Nurse Care Director at Aegis Living in Dana Point. Aegis Living is a leader in assisted living and memory care offering a continuation of care that allows our residents to age in place as their needs change. As the Nurse Care Director, I train staff, med-techs, and wellness nurses to provide care to the residents. I do care planning that requires accurate assessments of the residents' needs so we can provide the right level of care to our valued residents.
SC: Did you work with Stanbridge College Career Services to get your current position?
SN: Yes, Career Services really helped in putting my resume and portfolio together and prepared me for interviews. The "Ace the Interview" class that they provided gave me valuable insights on how to properly prepare for an interview: how to dress, answer questions, and ask the right questions.
SC: What is the biggest strategy you can share with fellow students that led to securing your current job?
SN: After graduation, many graduates might be wondering what to do next. Some graduates may have a fixation on working in hospitals or skilled nursing facilities right away but I would tell them to be open to other opportunities. There are a lot of other options out there, you just have to be open and try different kinds of nursing.
After I graduated, I started looking for a job. While waiting for my license, I asked a home health agency if I could shadow their nurses and they took me in. And as soon as I got my license they offered me the job as a home health nurse. I also took a wellness nurse job on the weekends. Every opportunity counts and adds to your credentials as a nurse. At that point I thought I shouldn't be picky with my opportunities. You have to be open to work in an entry-level position. So when I was offered my current job, I had gained considerable experience that gave me the confidence to take on the challenge to work as a Wellness Director, then as a Nurse Care Director.
SC: What do you hope to achieve in your career?
SN: Nursing is a continuous learning process. With new discoveries and technology in patient care changing and growing every day, there is always something new to learn. Whenever there is any opportunity for learning, I will be there. I want to be the best nurse that I can be, with pride. But you need to remember also to do it with all the humility you have, because in being a nurse you receive more personal and spiritual gratification than what you give to your patient.
For more information regarding the Vocational Nurse Diploma program at Stanbridge College, please visit www.stanbridge.edu.