Stanbridge Alumni Spotlight: Alice Brinkmann, LVN, Never Gave Up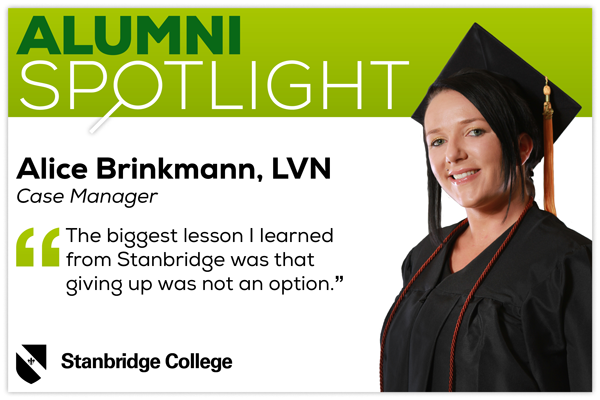 Stanbridge College spotlights nursing alumnus, Alice Brinkmann, LVN, Case Manager at a behavioral health company in Orange County. Alice talks about her experience at Stanbridge, advice for passing the NCLEX and how becoming a Licensed Vocational Nurse was one of the best decisions she ever made.
SC: What did you do before coming to Stanbridge?
AB: Prior to starting at Stanbridge, I was in an Emergency Medical team. I worked for the Motocross Factory Teams. This included the AMA Supercross and all out door national races. I did this for a number of years.
I am sure you are thinking, 'oh she had prior experience and that's why she got hired right out of school'. That may be partially true to an extent. However I was a new grad as well regardless of my past experience. Know your true worth, you have the education and the knowledge to be a great nurse.
SC: What was your inspiration for becoming a nurse?
AB: Knowing that every day I get off work I have made a difference one way or the other. As a nurse you know you have not only the education but the compassion you need to be in this field.
SC: Why did you choose this profession?
AB: I knew with going into this profession I was never going to be a rich woman, I chose this profession to give not only hope to future patients but hope to the next generation. Anything you put your mind to can be achieved.
SC: Why did you choose Stanbridge College for your nursing program?
AB: I decided to go to Stanbridge because when I came to look at the campus it was the only VN program that didn't drag me into financial aid to sign me up immediately. My admissions rep actually seemed to care what my goals were.
SC: What was your biggest lesson learned from Stanbridge College?
AB: The biggest lesson I learned from Stanbridge was that giving up was not an option. Things don't get handed to you, if you want this you have to work for it and you have to work hard.
SC: What was your experience like preparing for and taking the NCLEX exam?
AB: Virtual ATI was a life saver for me, the online tutor was great. The instructor really cared about my success with passing the NCLEX.
SC: Do you have any advice for students on how to prepare?
AB: Don't panic when the day comes to take your NCLEX, I found the exam to be incredibly easy compared to the ATI Tests. If you do well on ATI you will be fine on NCLEX. Have confidence in your knowledge.
SC: Tell me about your new position as a Licensed Vocational Nurse. What do you do?
AB: I am a Case Manager for a behavioral health company here in Orange County. I work with 67 patients, and all of them have some sort of mental and or behavioral problem. I guide them through the system and find them the resources they need. I listen to them and find out what I can do to help them become more stable in their lives. Many of my patients have had some sort of traumatic experience sometime in their life which has caused them to become unstable in their daily lives. Everything from Major depression, Anxiety, PTSD, and so many more. I also work as a hospice nurse on the weekends.
SC: What was the biggest factor in you getting this position?
AB: The biggest factor for me getting this position was constantly doing follow up calls after I submitted my resume, I did not stop calling HR until they scheduled the interview. I was hired on the spot the day of.
SC: What do you hope to achieve in your career as a nurse?
AB: If I can make a difference in one persons life during my nursing career that alone will be enough for me on what I wish to achieve.
SC: Do you want to continue your education in nursing?
AB: I am a current student at Saddleback, best decision I ever made was becoming an LVN first. You have the critical thinking and hands on experience you need to make continued schooling a little easier.
SC: What advice do you want to give nurses who are currently looking for a job?
AB: Don't take No for an answer and don't let employers tell you that you are not qualified enough for the position. Above all else keep educating yourself, there are numerous free classes online. All they take is a little of your time. Get involved with your community, talk to people when you are out and about, you never know who they may know.
SC: What guidance do you want to share with current VN students in Term 1 and Term 2?
AB: Term 1 and Term 2 are truly the stepping stones for not only the program but for nursing in general. You will use what you have learned in those 6 months more frequently throughout your nursing career.
SC: What is the biggest strategy you can share with fellow students that led to you securing
your current job?
AB: Utilize all the resources available to you. However, you have to put your work in too. Bring in your resume, talk directly to [Directors of Nursing], follow up with phone calls and thank you letters. I personally spent a few dollars and had professional business cards made, these have turned out to be incredibly useful when I was bringing in my resumes.

For more information on the Diploma in Vocational Nursing program at Stanbridge College, please visit: www.stanbridge.edu.