Stanbridge Spotlight: Nursing Alumnus Behi Tabrizi Never Stops Learning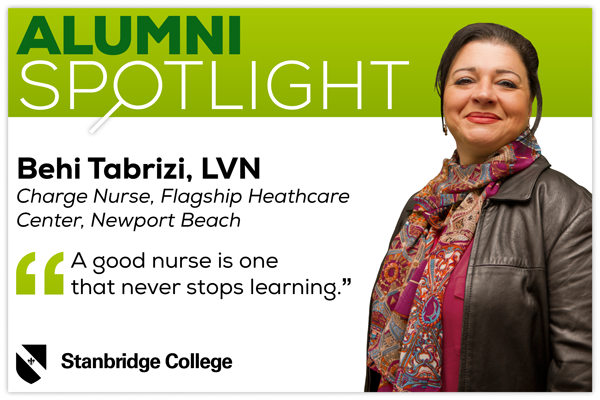 Nursing is at the very core of Stanbridge College nursing alumnus, Behi Tabrizi, LVN, and current Charge Nurse at Flagship Healthcare Center in Newport Beach. In her spotlight interview, Behi talks about her inspiration for becoming a nurse, shares her advice for students and job seekers and explains how education is very important for nurses every day.
SC: What do you do?
BT: In my new job, I do everything as a Charge Nurse including managing care plans, getting telephone orders from the physicians, changing patient dressings, wound care, GTube care, passing the medications based on MAR, and on top of all everything else, documenting. Especially for those patients who undergo dialysis, we document their condition when they leave the facility and when they return. It is very important. If we have a new patient, we do the skin check and VS for 72 hours, they call it "72hr doc." Getting the specimens is another thing that we have to do, especially for the night shift nurses, because the lab techs will come early in the morning to take all the specimens.
SC: What was your inspiration for becoming a nurse?
BT: Well, to me it seems that I was born to be a nurse. I always wanted to be a nurse. Even though I have a different bachelor's [degree], I switched to nursing with all my heart. It's been my childhood dream, I remember when I was a child, I was playing with my cousins and I always played as a nurse! Isn't it interesting?
SC: What guidance do you want to share with current VN students?
BT: My suggestion to new students is to find a job, even a part-time one, while they are at school, to become familiar with the patients. One of my classmates was really afraid of touching the patient. I had no problem because I started working as a CNA (certified nurse assistant), and never stopped working throughout my program at Stanbridge.
SC: What do you hope to achieve in your career as a nurse? Do you want to continue your education in nursing?
BT: I should say that a good nurse is the one that never stops learning. We learn every hour. Each patient is a new world by itself that we can learn a lot from them. Getting my RN is my next step in my journey and I am getting ready for it. I should pass some courses first, then it takes only 9 months to get an RN, and it's really worth it. When I started working, I saw the differences between positions but I started from the very beginning, working as a CNA. So my goal is to continue my education as much as I can.
SC: What advice do you want to give nursing graduates who are currently looking for a job?
BT: When looking for a job, the most important thing is having self confidence. Believe in yourself and don't forget to smile!
SC: What is the biggest strategy that led to you securing your current job?
BT: It's a very important one: be creative, be active and always be positive. Sometimes it's hard, but it's always good to have something unique in your hand and of course your mind. Be creative, but follow the rules.
To learn more about the Vocational Nursing program at Stanbridge College, please visit www.stanbridge.edu.
Looking for help with the job hunt? Contact Career Services at Stanbridge College at 949-794-9090 or alumni@stanbridg.edu for help with resume preparation, interview skills and extended career services.