Stanbridge Alumni Spotlight: Janelle Seitz, Licensed Vocational Nurse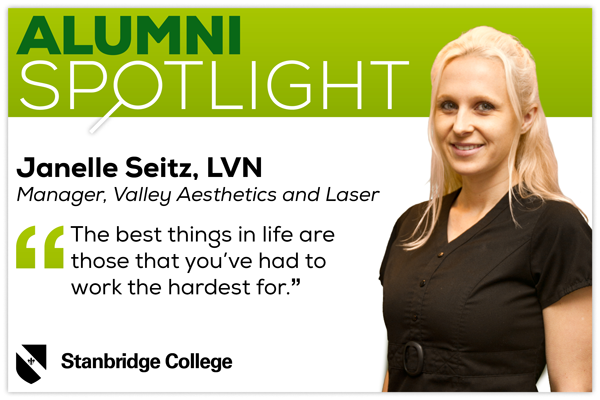 Stanbridge College spotlights alumnus, Janelle Seitz, Licensed Vocational Nurse and Manager of Valley Aesthetics and Laser in Huntington Beach. In her interview, Janelle talks about her inspiration for becoming a nurse, her life as a student at Stanbridge College, how she passed the NCLEX, and how making a difference in the lives of her patients gives her a sense of self achievement each day.
SC: Tell me about your new position managing Valley Aesthetics & Laser. What do you do?
JS: I currently manage the Valley Aesthetics and Laser in Huntington Beach which includes conducting consultations, assisting in procedures, performing procedures, staff scheduling, marketing, sales, and customer service.
SC: What was your inspiration for becoming a nurse? Why did you choose this profession?
JS: Before nursing school I was managing payroll for over 400 people, over those 4 years not once did I ever go home with a great sense of self achievement. I chose the nursing profession because I really wanted to make a difference in people's lives.
SC: Why did you choose Stanbridge College for your Diploma in Vocational Nursing?
JS: Stanbridge was recommended to me by a friend who was in the program. After visiting the campus, I knew it was the right place for me.
SC: What was your overall experience like at Stanbridge? What was the biggest lesson you learned?
JS: Stanbridge was great. I learned a lot in theory and we visited many clinical sites that I was able to see a variety of settings and procedures. The biggest lesson I learned was to listen to my instructors, this came true when it came time to take my NCLEX. Because of nursing school I have become more sensitive to people and the realization that everyone is going through their own battle.

SC: What was your experience like preparing for and taking the NCLEX exam?
JS: I spent most of my time preparing with ATI tests and I purchased a few review books. I was confident in what I was taught during school and didn't want to go on information overload, so I put aside an hour a day for 2 weeks prior to my boards exam and I passed first round.

SC: What do you hope to achieve in your career as a nurse? Do you want to continue your education in nursing?
JS: My primary focus right now is growing my office and making people feel better and more confident about themselves. I have patients that have lost over 20 pounds with our weight loss program, patients that now feel confident wearing a tank top after completing laser hair removal and patients now confident in wearing a 2 piece bathing suit after completing SmartLipo Laser Liposuction. I'm doing what I've always wanted to do.

SC: What advice do you want to give future nursing students?
JS: The best things in life are those that you've had to work the hardest for. Stay focused and don't give up.
SC: What is the biggest strategy you can share with fellow students that led to you securing your current job?
JS: Commit yourself 100% and the rest will fall into place. I landed my current job from a past patient of mine who referred me because I always provided her with great service.